THE BLOOM GENERATION: AN AFTERNOON WITH DRØME'S CAROLINE D'ARCY GORMAN+ SATCHEL LEE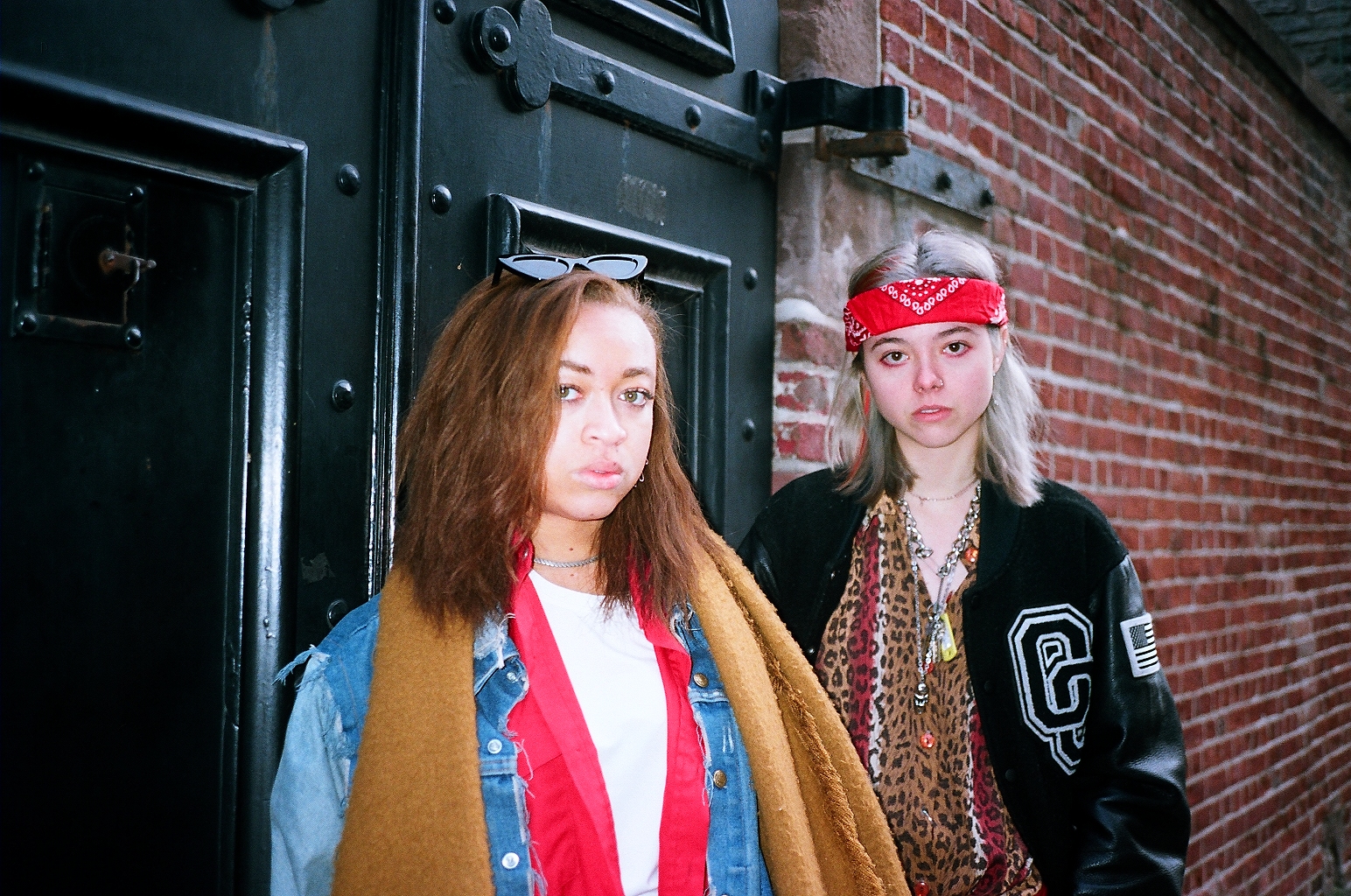 X SHOTS BY BRANDON "FANNY" NUNN
interview taken from Spring/Summer 19 lookbook, Imaginary Boys.
[New York- An afternoon in Chinatown and Lower East Side. Photo by Brandon "Fanny" Nunn. Caroline + Satchel wear their own gear. taken on a cold november day]
SAENAI: Some of our most brilliant creatives work with a lot DIFFERENT ASPECTS OF INFLUENCE THAT HAVE IN SOME WAY COMPLIMENTED OR HAVE CONTOURED THEIR APPROACHED IN HOW THEY ARTICULATE MESSAge, style, product. Can you recall some early influences that still remain that you draw upon and still remain authentic to whom you are and are becoming?
Satchel lee: Hmm. That's an interesting Question. No matter what medium I'm working in I tend to draw from the places of inspiration. I have an artillery of creative inspiration that I can call upon at any time. I'm a big musical theatre and dance fan. I love experimental films and French cinema. i love silence interrupted by breath.
CAROLINE D'arcy Gorman: Humor has always been very important to me. I used to watch a lot of comedy TV and when I was younger I wanted to be a comedy writer. I also was very into acting and tried to make that happen for a couple of years. That talent/desire has disappeared over the years but I'm interested to see if i manage to integrate both comedy and theatre into what i'm doing right now.
SAENAI: OF THE TWO, WHO'S MORE NOSTALGIC? WHAT'S INSPIRES THAT SENSIBILITY AND LASTLY- HOW DO YOU OR DON'T YOU DO NOT RELATE TO IDEAS OF THE PAST?
SL: I'M NOT SURE WHO'S MORE NOSTALGIC BETWEEN THE TWO OF US. WHAT I WILL SAY IS THAT GROWING UP IN NEW YORK CITY, I ALWAYS FELT A LITTLE DISCOURAGED BECAUSE I FEEL LIKE I MISSED THE CITY'S CULTURAL PRIMETIME. I FELT LIKE I SHOULD HAVE BEEN IN NEW YORK IN THE 70'S OR THE 90'S , WHEN PEOPLE REALLY HAD FUN AND WENT OUT AND DANCED. I LOVE TO DANCE AND HAVE A GOOD TIME AND MEET INTERESTING PEOPLE WHO ARE WEIRD AND STRANGE WHO LOVE DOING THEIR OWN THING. DURING MY JUNIOR YEAR IN COLLEGE, I STARTED TO REALISE THAT THERE IS A REALLY VIBRANT YOUTH SCENE RIGHT NOW. IT JUST LOOKS A LITTLE DIFFERENT THAN SAY HOW IT DID DECADES AGO. SO I GUESS THAT MADE ME REALISE, 'YES, THE PAST IS GREAT' AND COOL AND EVERYTHING AND I CAN BE NOSTALGIC IF I WANT BUT MY TIME IS NOW SO I BETTER GET THE MOST OUT OF IT.
CDG: I CAN BE VERY NOSTALGIC. SOCIAL MEDIA IS VERY LOVE-HATE AND SOMETIMES I WANT TO THROW MY IPHONE INTO THE RIVER. BUT TECHNOLOGY HAS ALSO GIFTED ME A LOT OF INCREDIBLE RESOURCES. AND IT WOULD BE A LOT HARDER TO RUN A "QUEER" FOCUSED MAGAZINE IN THE 60'S. HOWEVER, I THINK IT'S REALLY INTERESTING AND COOL TO REINTERPRET ANTIQUATED AESTHETICS IN A MODERN WAY. MY FRIEND, ADRIAN (@GRAPHICPORN) MADE A SERIES USING OLD FOUND BLACK AND WHITE PORTRAITS OF QUEER COUPLES FROM LIKE THE 50'S, AND THEN HE PAINTED OVER SOME OF THE FIGURES WITH millennial PINK. WE INCLUDED THAT SERIES IN VOLUME 1 OF DRØME. I THINK A LOT OF GREAT ART CAN COME FROM THIS FRICTION BETWEEN THE PAST AND PRESENT, PARTICULARLY WITH RESPECT TO QUEER NARRATIVES.
SAENAI: HOW DID DRØME COME ABOUT? PLEASE FEEL FREE TO EXPOUND DEEPLY AS WE'D LIKE TO GAIN A CLEARER IDEA AS HOW YOU TWO MET, WHAT WERE SOME OF THE EARLIER DIALOGUES AND THEORIES PERTAINING TO THE WHAT DROME NEEDED TO BE / SAY. idealistically, WHAT WOULD YOU LIKE DRØME TO BECOME?
SL: SO I GOT INVOLVED WITH DRØME AFTER THE FIRST ISSUE CAME OUT. CAROLINE INVITED ME TO THE LAUNCH PARTY KINDA OUT OF THE BLUE. WE KNEW EACH OTHER FROM A LGBTQ + AFFINITY GROUP THAT WE WERE BOTH APART OF IN HIGH SCHOOL. WE DIDN'T REALLY KNOW EACH OTHER VERY WELL BUT KNEW WHO EACH OTHER WERE AND WE WERE FRIENDS ON FACEBOOK. BUT SHE INVITED ME TO THE LAUNCH PARTY AND I WAS REALLY IMPRESSED BY HER AND THE MAGAZINE. A WEEK LATER SHE EMAILED ME ASKING IF I WOULD WANT TO COME ONTO THE TEAM AND WORK WITH HER. I SAID YES ALMOST IMMEDIATELY. I HAD JUST RECENTLY STOPPED WORKING WITH THIS ARTIST COLLECTIVE I HELPED FOUND AT MY UNIVERSITY, SO I WAS REALLY ITCHING TO BE CREATIVE IN THIS WAY AGAIN. ONE OF MY FAVOURITE THINGS IN THIS WORLD IS GIVING A PLACE FOR TALENTED PEOPLE TO SHARE THEIR VOICES AND TALENTS AND DRØME HAD ALREADY PROVEN THAT THAT'S WHAT THEY WERE ABOUT. ALSO TO HAVE A PLACE AND A COMMUNITY FOR QUEER PEOPLE TO CELEBRATE THEMSELVES AND EACH OTHER WAS REALLY IMPORTANT TO ME. I'M SO PROUD AND GRATEFUL TO BE APART OF DRØME.
CDG: I FOUNDED DRØME MY FRESHMAN YEAR OF COLLEGE (THREE YEARS AGO) AT BROWN WITH TWO OTHER STUDENTS AT BROWN UNIVERSITY. OUR GOAL WAS TO CREATE AN ARTIST COLLECTIVE WITH A FEMINIST FOUNDATION THAT SUPPORTED UNDERREPRESENTED ARTISTS. THE SUMMER OF 2016, WE RAISED MONEY ON INDIE-GO-GO BUT OUR GOALS WERE STILL VAGUE. WE JUST HAD THE INSTAGRAM AT THAT POINT. I DECIDED ONE DAY THAT WE SHOULD TURN DRØME INTO A PRINT MAGAZINE. PRINT HAS ALWAYS BEEN APPEALING TO ME; IT'S SO SPECIAL AND IMPORTANT TO BE ABLE TO DEVELOP A PHYSICAL RELATIONSHIP WITH TEXT AND IMAGES IN A WAY THAT WE ARE NO LONGER ACCUSTOMED TO IN THIS DIGITAL AGE. THE GENERAL MISSION OF DRØME HAS REMAINED THE SAME OVER THE PAST FEW YEARS BUT A LOT HAS CHANGED FOR THE BETTER. I ASKED SATCHEL TO COME ON AS MY PARTNER IN THE BEGINNING OF 2017 AND THIS PAST YEAR EVERYTHING HAS REALLY FALLEN INTO PLACE. WE HAVE ACHIEVED A LOT WITH OUR TEAM. A BUNCH OF INCREDIBLE THINGS HAVE HAPPENED THAT I NEVER COULD HAVE PREDICTED (BUT PERHAPS WAS WORKING TOWARDS, SUBCONSCIOUSLY). THE PLAN IS TO TURN DRØME INTO A TALENT AGENCY, FASHION LABEL, RECORD LABEL, AND FILM PRODUCTION COMPANY- WE WANT TO DO IT ALL! JUST GIVE US A COUPLE OF YEARS, IT'LL HAPPEN.
SAENAI: What music are you listening to? Which sounds / artists have continued with you through life and what's your declared opinion on music today, if you have one?
SL: I listen to the same stuff all the time. IT'S LIKE A CONSTANT ROTATION OF SZA, FRANK OCEAN, KALI UCHIS, WHATEVER. I LOVE BEYONCE. I LOVE RIHANNA. I LOVE AMY WINEHOUSE. FELA KUTI. DIRTY PROJECTORS. JAMES BLAKE. I CAN REALLY LISTEN TO ANYTHING. MUSIC TODAU IS DOPE. NOT EVERYTHING SOUNDS GOOD BUT, ANYONE CAN RECORD A RECORD NOWADAYS. YOU CAN DO IT ON YOUR PHONE. AND PUT IT IT OUT TO THE PUBLIC ON THE INTERNET. KIDS ARE GETTING FAMOUS OFF OF ONE SOUNDCLOUD SONG. THAT'S DOPE. WE REALLY HAVE A LOT OF FREEDOM TO BE CREATIVE. WE HAVE TO TAKE FULL ADVANTAGE OF THAT.
CDG: I GOT VERY INTO HOUSE AND TECHNO WHEN I LIVED IN BERLIN AND LEARNED HOW TO DJ. IT'S A WHOLE DIFFERENT BALLGAME THERE- THEY TAKE IT VERY SERIOUSLY. TECHNO HOLDS A LOT OF CULTURAL SIGNIFICANCE IN BERLIN. THAT SAID, I'VE BEEN WRITING A LOT OF OLD SCHOOL ROCK RECENTLY AND HAVE A LOT OF NOSTALGIA FOR ROCK BANDSFROM THE 70'S AND 80'S- NOT JUST THE MUSIC BUT ALSO THE AESTHETIC. I ALSO LOVE DISCO AND OLD STUFF LIKE MARTHA REEVES AND THE BYRDS. NICOLAS JAAR ALWAYS. GRIMES. BLOOD ORANGE. I LIKE THE GARDEN A LOT, THEY'RE RAD. I ALSO LIKE LISTENING TO MUSIC OF PEOPLE WE WORKED WITH BECAUSE MY PERCEPTION OF THEIR MUSIC ALWAYS CHANGES AFTER WE'VE HUNG OUT.
SAENAI: IF YOU COULD LIVE ANYWHERE IN THE WORLD, WHERE WOULD IT BE? WHAT WOULD BE SOME OF THE THINGS YOU'D DO WHILE LIVING THERE? IN WHAT CONTEXT WOULD YOU pursue YOUR CREATIVE CRAFT AND WHAT WOULD DROME BE LIKE UNDER THOSE CIRCUMSTANCES.
SL: I'VE LIVED IN NEW YORK MY ENTIRE LIFE, (BESIDES THE FEW MONTHS I SPENT IN PARIS STUDYING ABROAD). IT'S MY FAVOURITE CITY IN THE WORLD. I LOVE IT HERE. THAT BEING SAID, I DO WANT TO SPEND SOME TIME AWAY FROM NEW YORK. I WANT TO GIVE MYSELF TIME AND SPACE TO GROW AND KNOW THE WORLD OUTSIDE OF MY COMFORT ZONE. I WOULD LOVE TO GO BACK TO PARIS. IT'S MY SECOND FAVOURITE CITY. I THINK NEW ORLEANS WOULD BE A LOT OF FUN TOO. IT SEEMS ROMANTIC AND OPEN AND LAID BACK.
CDG: I HAVE HAD A SIMILAR EXPERIENCE GROWING UP AND LIVING IN NEW YORK BASICALLY MY WHOLE LIFE AND THEN STUDYING IN BERLIN WHEN I WAS 19. I LIVED THERE FOR 8 MONTHS, AND IT COMPLETELY CHANGED MY LIFE. BERLIN ENABLED ME TO EXPERIENCE TRUE FREEDOM FOR THE FIRST TIME AND I REALLY BECAME A LOT MORE COMFORTABLE WITH MYSELF- BOTH MY AESTHETIC AND MY AMBITIONS- AFTER MY TIME THERE. I'M DESPERATE TO KEEP MOVING AROUND. MAYBE TOKYO. IN TERMS OF DRØME, HOWEVER, RIGHT NOW WE ARE SUPER NYC-CENTRIC, SO I'D LIKE TO GIVE NEW YORK A LITTLE MORE TIME.
SAENAI: IN YOUR OWN WORDS, WHAT DOES YOUTH MEAN TO YOU?
SL: YOUTH IS THE CONDITION OF BEING YOUNG. I LOVE THE KIDS. I LOVE YOUTH CULTURE BECAUSE IT IS ROOTED IN SELF-EXPRESSION AND A FEARLESSNESS THAT WE (MIGHT) LOSE AS WE GROW OLD. I LIKE THE WAY YOUNG PEOPLE TALK. IT SOUNDS LIKE POETRY TO ME. I LOVE BEING YOUNG. I'M GOING TO KILL IT WHEN I'M OLDER, TOO! SO, THERE IS NO WORRY THERE, BUT TO BE YOUNG IS TO BE OPEN AND WILLING AND EXPECTING THE BEST FROM EVERYONE.
CDG: YOUTH IS BEING ABLE TO SHAPE-SHIFT AND TRANSFORM AND MOVE THROUGHOUT THE WORLD IN A WAY THAT IS NOT CONTAINED BY THE EXPECTATIONS OF OTHERS.
SAENAI: DRØME RECENTLY WERE PARTICIPANTS OF BASEL IN MIAMI. IN WHAT WAYS HAS DRØME'S OUTREACH BRIDGED BOTH ART, DESIGN, AND FASHION?
CDG: DRØME HAS ALWAYS BEEN FOCUSED ON INTERSECTIONS. AT ART BASEL MIAMI THIS PAST DECEMBER, WE HOSTED A PARTY AT THE EDITION HOTEL. LIEF PERFORMED IN THE MIDDLE OF THE PRIVATE BOWLING ALLEY IN THEIR BASEMENT CLUB. WE ALSO HAD ICE SKATERS ON THE EDITIONS RINK,DRESSED IN OFFICIAL REBRAND (A DESIGNER WE COLLABORATED WITH AT NYFW). GUETS WERE ABLE TO ACTUALLY BOWL AND ICE SKATE DURING THE PARTY, WHICH PROVIDED FOR AN INTERESTING AND FUN INTERSECTION BETWEEN SPORT/ DANCE/ MUSIC.
SAENAI: IN 2018, WHAT'S NEXT?
CDG: EVERYTHING IS NEXT! FOLLOW US ON INSTAGRAM TO FIND OUT (@WEAREDROME)
SL: WE ARE CHARGING AHEAD WITHOUT FEAR OR WORRY.
***